Allergies are adverse reactions of the immune system that are not triggered in healthy people. Symptoms of allergies include sniffling, watery eyes, itching, or asthma.
According to official statistics, allergies are the No. 6 cause of chronic illnesses in the United States. Hay fever affects roughly 19.9 adults, as reported in 2017 by the Centers for Disease Control and Prevention.
CBD is a phytochemical. In other words, it comes from plants — specifically, from cannabis plants.
Given this, it's natural to wonder whether CBD oil, a product that contains over 400 phytochemicals aside from CBD, can trigger allergies.
Though there's not much research regarding allergic reactions to CBD oil, the cannabis plant itself has been linked to allergies.
Today, we'll elaborate on potential allergies to CBD oil, why they happen, what researchers are saying, and whether you can still use CBD if the full-spectrum oil causes you to experience the aforementioned pesky symptoms.
Allergies in the United States in Numbers
Over 50% of the U.S. population has allergies to at least one thing. Hay fever — allergic rhinitis — is the most common allergy, affecting between 10 and 30% of all American adults, and may affect up to 40% of children.
While there's no cure for allergies, they can be effectively managed with proper nutrition, supplementation, and a healthy lifestyle. Of course, avoiding triggers is also a good strategy.
Some allergies are more severe than others and may require a complex treatment
Below we break down the mechanism of allergies.
A Brief Overview of Allergies and How They Work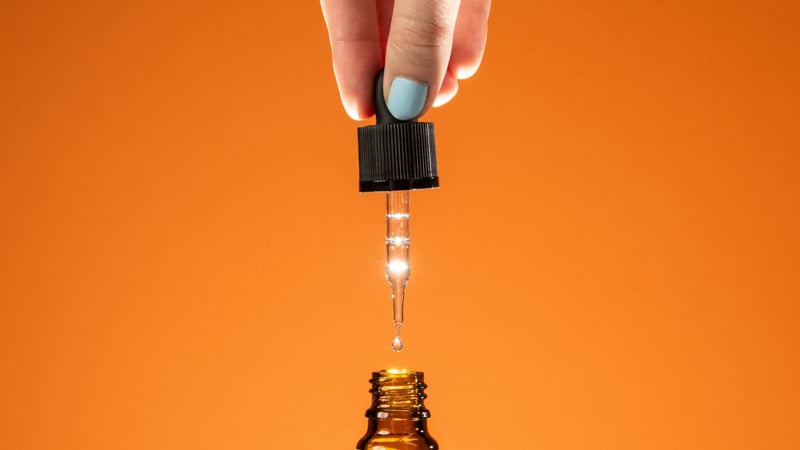 Allergies are a common health problem. They manifest in itching, sneezing, a runny nose, droopy eyes, and sometimes difficulty breathing.
But what is the root of allergies? Where do they start?
The answer is: A compromised immune system.
The immune system controls allergic reactions. A properly functioning immune system can tell the difference between harmful and safe compounds to eliminate potential dangers. However, when it goes out of whack, it starts to identify benign substances as potential dangers — creating antibodies to attack these "irritants."
In fact, the body releases antibodies every time a person is exposed to the allergen.
Histamine is the antibody with plant allergies like hay fever. The antihistamine medications work to prevent antibodies from causing damage to the immune system. Common antihistamine drugs include Claritin, which is available over the counter. CBD allergies fall into the category of plant allergies.
Food allergies are more difficult to treat. The immune system becomes aggressive against proteins in the food, triggering serious symptoms like anaphylaxis.
Anaphylaxis can be fatal if left without immediate help. Sufferers usually carry special pens with epinephrine to treat an allergic reaction once it begins.
In a 2009 study published in Immunobiology, the authors suggested that cannabinoids such as CBD and THC could take part in immunosuppressive processes (1). This means that they may block the reactions of the immune system against the triggers.
Does it mean you could use CBD oil for allergies directly as well as for preventative measures?
Not exactly, but we'll get to that later on.
Some people are worried that CBD might cause allergies. Is this claim backed by any scientific evidence, or is it just a rumor?
Can You Be Allergic to CBD?
An allergy to cannabis is a real thing. By the same token, a person might be allergic to CBD. Inhaling, eating, or touching cannabis plants can cause allergic reactions due to contact with pollen. When you inhale that pollen, you may suffer from hay fever.
In a 2018 study, the research team found that people with allergies to mold, dust mites, cat dander, and plants, have a higher risk of developing an allergy to cannabis (2). However, this is the only study regarding this subject as of today. More research is needed to establish a clear link between cannabis and allergic reactions.
Since it's possible to be allergic to cannabis if you're allergic to pollen or mold, contaminants in CBD products should be the main concern for you.
When it comes to cannabinoids, things look quite similar. A 1971 study found that THC could produce an allergic reaction (3). CBD and THC have similar chemical structures, meaning that CBD also has the potential to trigger an allergy. However, it's important to note that the side effects of CBD are different from allergic reactions. The study also didn't focus specifically on CBD.
Common Allergic Reactions to CBD Oil
A CBD allergy can show up in a variety of ways. Two people may have completely different symptoms, so it can be tricky to distinguish between a CBD allergy from the mild side effects of CBD.
Potential adverse reactions to CBD include dizziness, dry mouth, lethargy, nausea, and diarrhea. These are not the symptoms of an allergy to CBD. Moreover, they are nearly nonexistent in normal doses.
CBD oil allergies have the following effects:
Dry, Itchy, or Red Eyes: Although this side effect is associated with taking THC due to its ability to dilate blood vessels in the eyes, some users might experience this after taking CBD oil. If you have this kind of reaction, or your eyes are watering, it might be the symptom of a CBD allergy.
Breathing Difficulty: If you have difficulty breathing, seek immediate medical attention. With CBD products, this side effect may stem from poor-quality products that contain dangerous additives or mold.
Skin Irritations: when you use CBD topically, you may notice a rash or hives as the manifestation of your allergy to CBD. However, this could also be triggered by one of the many other ingredients in creams and gels, so make sure to read the list of ingredients carefully.
Migraines: While some CBD users may experience a slight headache at higher doses, migraines are a severe symptom that can indicate an allergy to some of the compounds in CBD oil.
People who are allergic to CBD oil are advised to try CBD isolate instead of full-spectrum products. Full-spectrum CBD oils are made using the whole plant, so they contain cannabinoids, terpenes, flavonoids, essential oils, proteins, vitamins, trace minerals, and plant wax. As a result, there's a higher risk of experiencing an allergic reaction.
It's a good idea to try a few different CBD products with various spectra to determine which form of CBD works without triggering allergies. You should also check with a doctor to seek medical advice about what to do when the symptoms kick in.
Research on CBD Oil & Allergies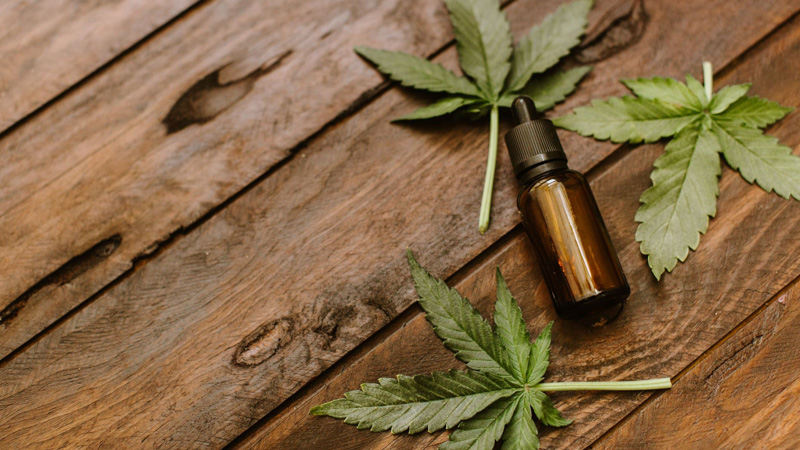 Researchers from the Duke University School of Medicine found that about 20% of the 100 people they tested experienced allergic reactions to linalool, while 8% were allergic to limonene (4). These two molecules are commonly found in cannabis extracts such as CBD oil.
In a letter entitled "Marijuana and stoned fruit," written by doctors from the University of California, San Diego, and published in the Annals of Allergy, Asthma, and Immunology, a 24-year-old male marijuana daily user had an anaphylactic reaction after eating yogurt with hemp seeds (5).
A 2013 study from the Internal Archives of Allergy and Immunology examined 21 patients with food allergies for reactivity to cannabis lipid transfer proteins (LTP), which are alleged allergens (6). Twelve subjects were allergic to cannabis, and all 12 had more severe symptoms of food allergy than those who weren't allergic to cannabis.
Can CBD Oil Help with Allergies?
1While research supporting the idea that CBD could alleviate allergies and their symptoms are limited, there are some studies regarding its general effects on inflammation, which is one of the body's triggers of an allergic reaction.
In a 2011 research report published in the journal Free Radical Biology and Medicine, the authors investigated the potential impact of CBD on various inflammatory conditions (7). George W. Booz, a professor in the department of pharmacology and toxicology at the University of Mississippi Medical Center, suggested in the report:
"Inflammation and oxidative stress are intimately involved in the genesis of many human diseases. Unraveling that relationship therapeutically has proven challenging, in part because inflammation and oxidative stress feed off each other. However, CBD would seem to be a promising starting point for further drug development given its antioxidant (although relatively modest) and anti-inflammatory actions on immune cells."
According to the research team, there is no clinical evidence CBD oil could alleviate allergies, so while we have some laboratory studies suggesting anti-inflammatory effects exist, we need more longitudinal research to draw definitive conclusions.
Final Thoughts on CBD Allergies
If you want to minimize the risk of experiencing an allergic reaction to CBD, it's best to purchase from a reputable brand that sells high-quality products. A lot of allergies caused by CBD oils appear to stem from unwanted substances such as contaminants, solvents, or plant residue. Always make sure to check for third-party lab reports when browsing different CBD products. It might be worth spending some extra time to ensure you get a decent product.
Right now, research on CBD allergies is in the early stage. As the number of CBD users grows, so will the data about potential allergic reactions. An allergy to CBD is extremely rare, but people with pre-existing allergies or other health conditions should take particular caution.
References:
Rieder, Sadiye Amcaoglu et al. "Cannabinoid-induced apoptosis in immune cells as a pathway to immunosuppression." Immunobiology vol. 215,8 (2010): 598-605. doi:10.1016/j.imbio.2009.04.001
Min, Jin-Young, and Kyoung-Bok Min. "Marijuana use is associated with hypersensitivity to multiple allergens in US adults." Drug and alcohol dependence vol. 182 (2018): 74-77. doi:10.1016/j.drugalcdep.2017.09.039
Liskow B, Liss JL, Parker CW. Allergy to marihuana. Ann Intern Med. 1971 Oct;75(4):571-3. doi: 10.7326/0003-4819-75-4-571. PMID: 5094070.
Nath, Neel Som et al. "Contact Allergy to Hydroperoxides of Linalool and D-Limonene in a US Population." Dermatitis : contact, atopic, occupational, drug vol. 28,5 (2017): 313-316. doi:10.1097/DER.0000000000000318
Bhatia, Prerana et al. "Marijuana and stoned fruit." Annals of allergy, asthma & immunology : official publication of the American College of Allergy, Asthma, & Immunology vol. 120,5 (2018): 536-537. doi:10.1016/j.anai.2018.01.017
Ebo, D G et al. "New food allergies in a European non-Mediterranean region: is Cannabis sativa to blame?." International archives of allergy and immunology vol. 161,3 (2013): 220-8. doi:10.1159/000346721
Booz, George W. "Cannabidiol as an emergent therapeutic strategy for lessening the impact of inflammation on oxidative stress." Free radical biology & medicine vol. 51,5 (2011): 1054-61. doi:10.1016/j.freeradbiomed.2011.01.007