Gold Bee CBD Gummies
Delicious | Vegan-Friendly | Organic | THC-Free
Our new CBD-infused gummies are the perfect companion to take with you as you head out the door. They're great after the gym for post-workout recovery or throughout the day to support achy joints.
Each gummy delivers a potent 25 milligrams of concentrated CBD.
Our gummies are made with an award-winning
CBD extract and a natural gummy base.
They're chewy, fruity, and deliver a potent dose of CBD when you need it.
Like our busy bees, we've spent a considerable effort getting these gummies just right. To achieve this, we scoured the country looking for the best organic hemp available. We also bought a state of the art CO2 extractor to separate the valuable cannabinoids from the raw hemp flowers without the need for toxic solvents.
As part of our mission to create the highest quality CBD products possible, we only use organically-grown plants. Organic hemp has a better flavor, better cannabinoid profile, and eliminates the risk of contaminants ending up in the final product.
If the hemp we receive isn't top-notch, we send it back.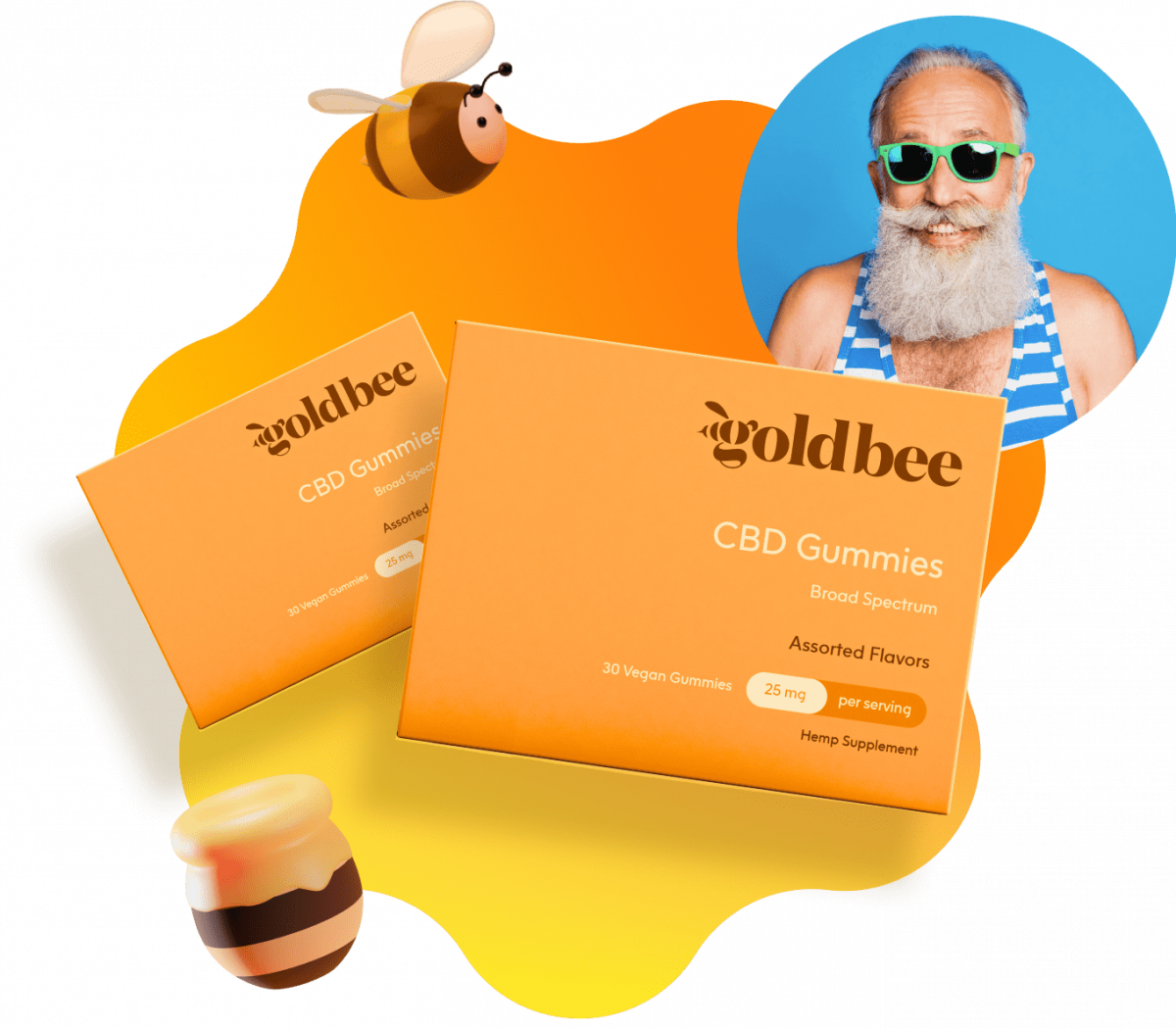 Here's Why We Love Using CBD Gummies
Our gummies are also completely vegan-friendly — meaning there were no animal byproducts or synthetic additives included in the formula.
Order Premium CBD Gummies Online
Shop securely from the comfort of your own home.
Our team worked hard to make the online shopping experience as seamless as possible. Order your next pack of gummies with a few simple clicks.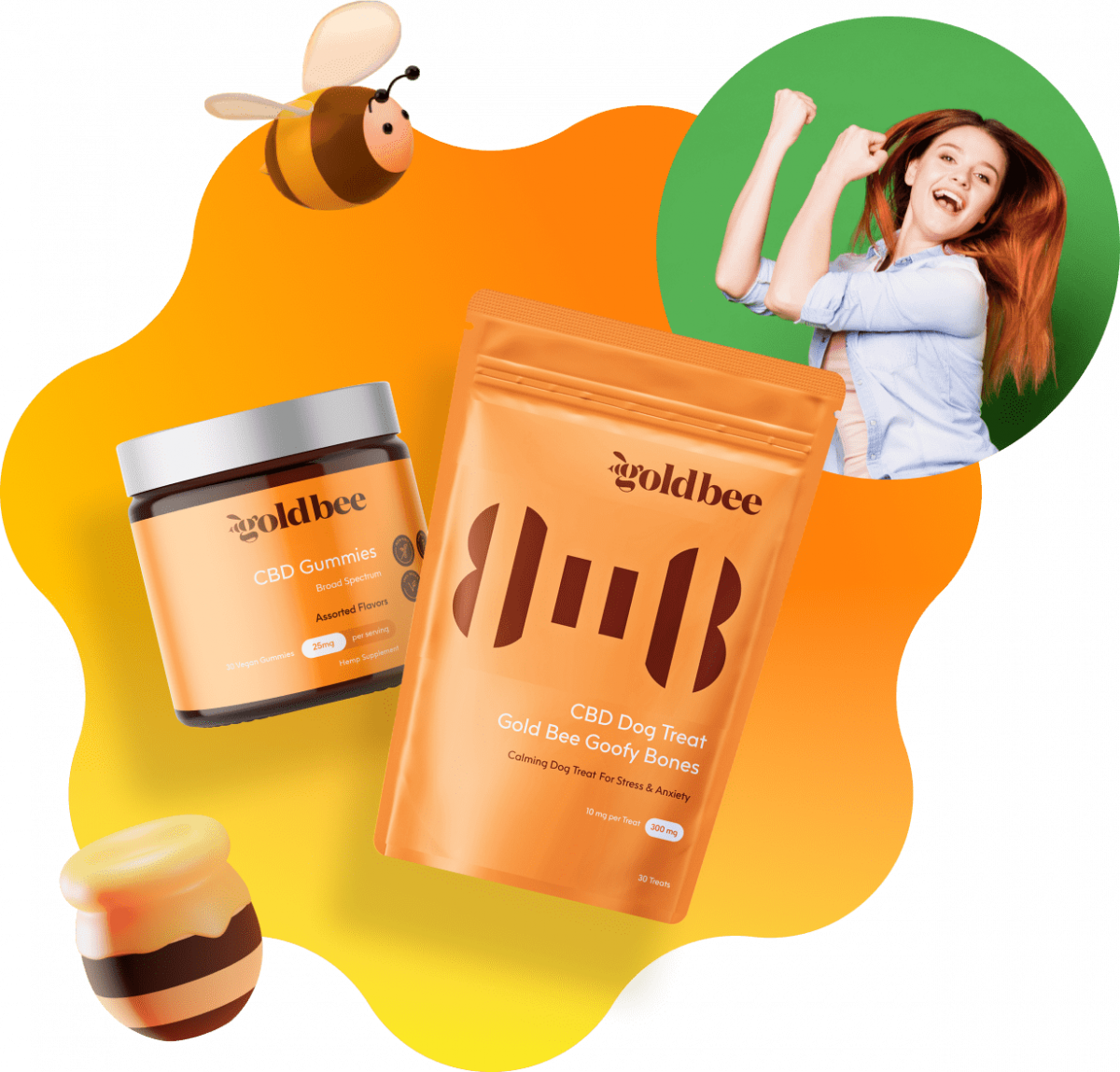 Order today, and you'll receive your package
within couple days — anywhere in the United States.
If you have any questions about your order or want to say hi to the Gold Bee team, our customer service staff is happy to hear from you. Our team is entirely remote, operating in just about every time zone on the planet. Someone will be ready to answer your question 24 hours a day, seven days a week.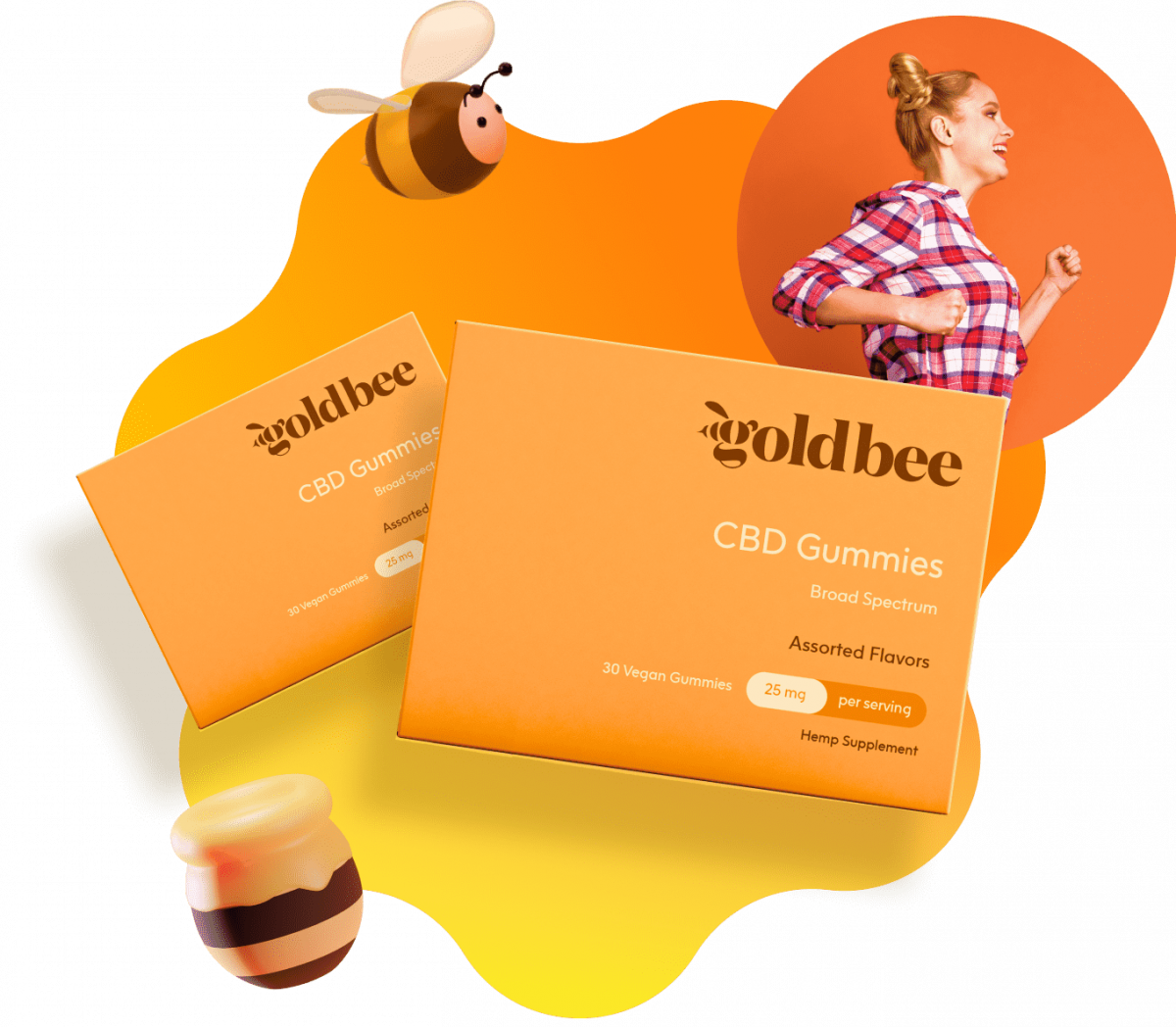 CBD Gummies For All Dietary Restrictions
Whether you're vegan, gluten-intolerant, or just want to buy ethically manufactured products — we've got you covered.
Gold Bee CBD gummies are formulated without wheat or animal-derivatives — making them completely vegan-friendly and gluten-free.
Our clean-gummy formula has already received a ton of positive feedback. We're proud to have been featured among the top-recommended brands on the market by several high-profile publications. Just ask Google for the "Best CBD gummies" — the results speak for themselves.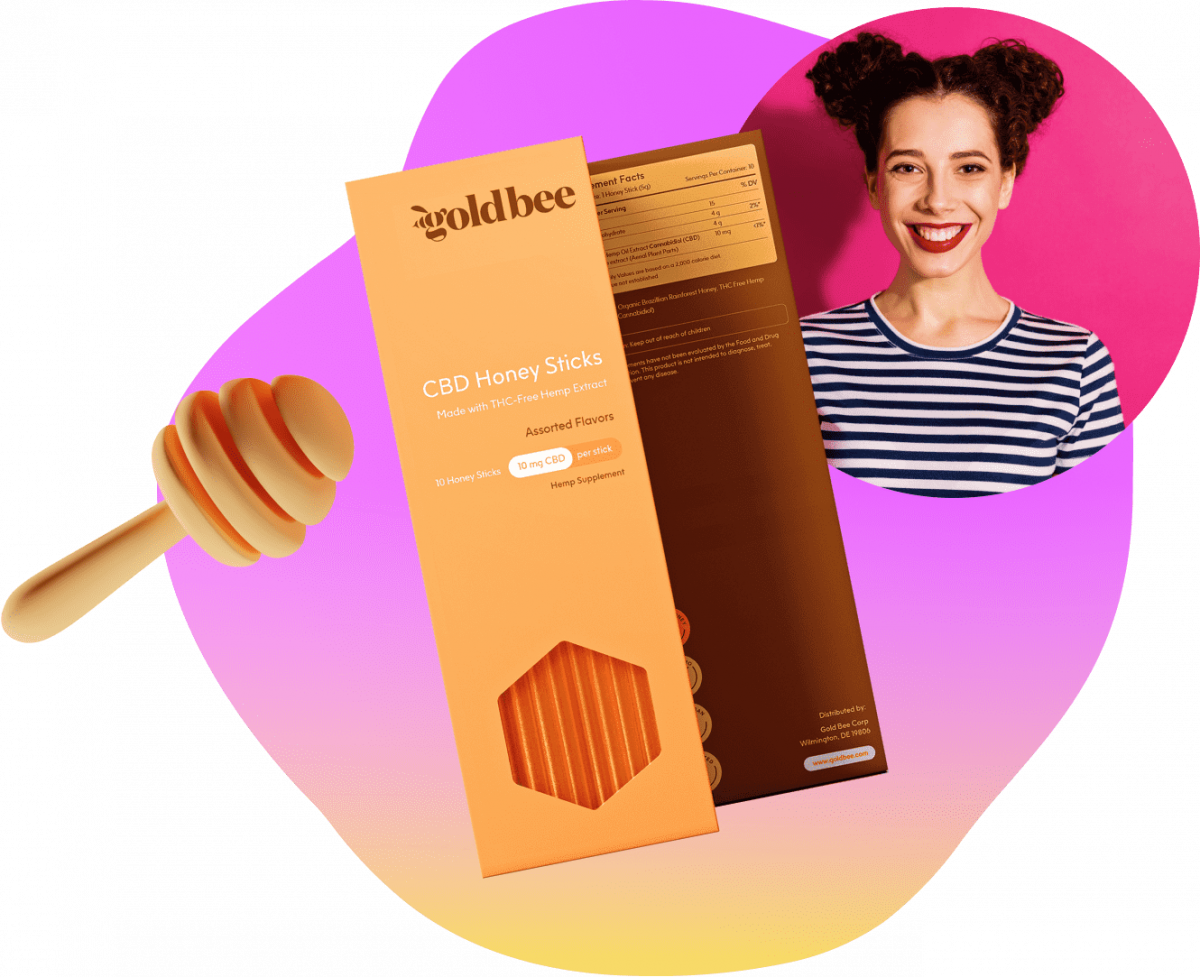 Gold Bee Uses Organically-Grown Hemp
When it comes to CBD, the final product can only be as good as the starting hemp — which is why we take the quality of our hemp very seriously.
We maintain a strong relationship with our trusted network of organic hemp growers. This ensures our hemp remains completely free from toxic herbicides, pesticides, or chemical fertilizers.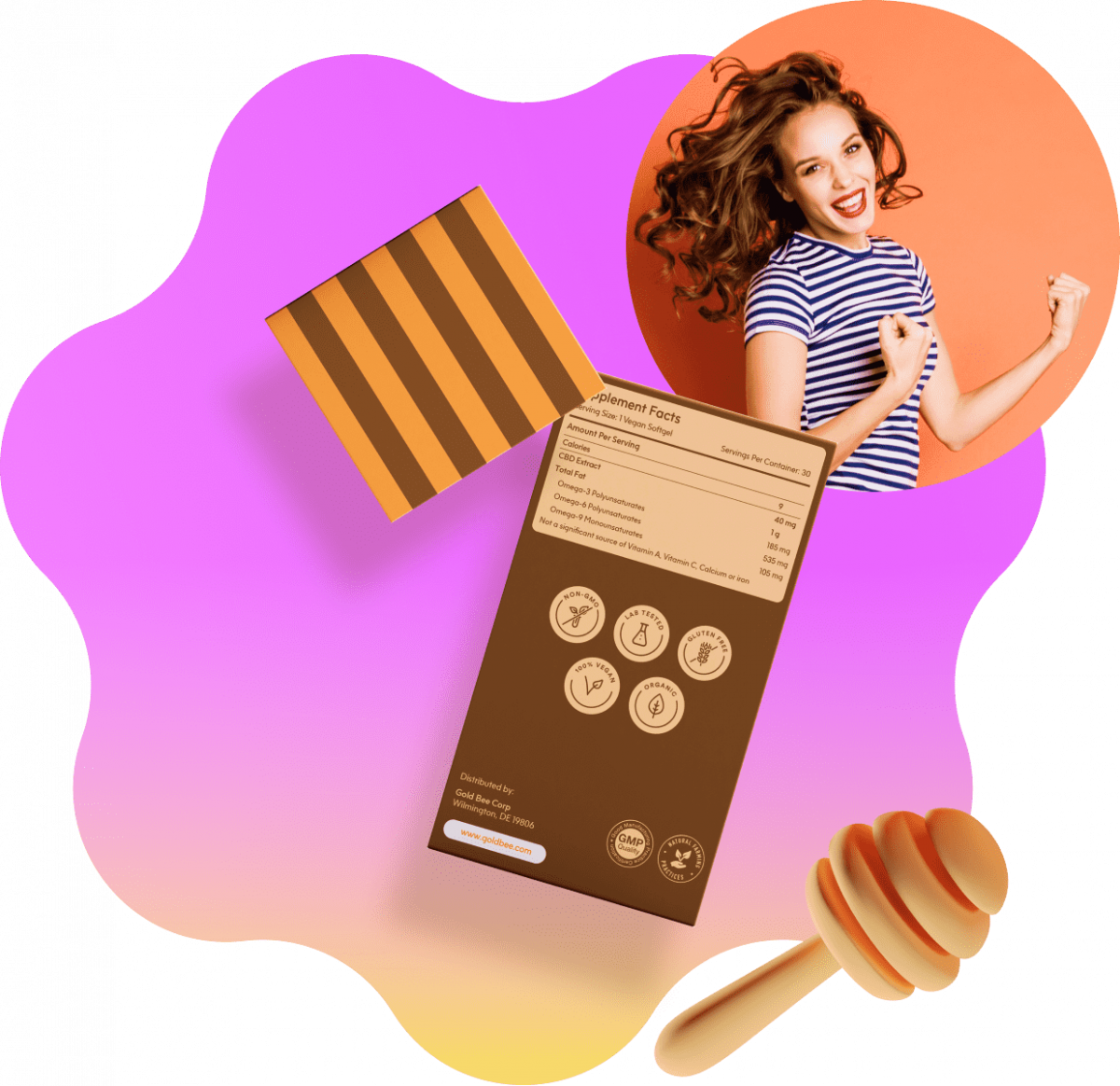 Gold Bee CBD Gummies FAQs
Are CBD Gummies Legal?
All products formulated by Gold Bee, including our CBD gummies, are made from US-grown hemp. These plants contain less than 0.3% THC, so they're federally legal under the 2018 Farm Bill. We test our gummies in third-party laboratories to ensure THC levels remain within the federal limits.
What Are the Benefits of CBD?
CBD has many documented benefits, although they may vary between individuals.
The most popular applications of CBD include:
To bring a sense of calmness & relaxation
To promote healthy, more restorative sleep
To revitalize the hair & skin
To support a healthy lifestyle
To improve host defense
To reduce the negative impact stress has on the body
It's My First Time Using CBD Gummies. What Can I Expect?
The first thing you'll notice is the delicious fruity flavor of these gummies.
It will take between 20 and 45 minutes before you'll start to notice the gummies' effects. You may experience a sense of calm, clear-headedness start to fade-in around the 30-minute mark, which gradually intensifies.
After the first hour, the effects move towards the body — relaxing the muscles near the shoulders, lower back, and joints.
At no point will you experience any psychoactive effects — our CBD gummies are entirely non-psychoactive. The effects on cognition are mild and tend to fall more in line with a sense of peace and relaxation.
CBD gummies last anywhere from 3 to 8 hours and vary depending on your weight and the dose of CBD you used.
Higher doses often produce more sedative effects and last longer. Lower doses have a stronger impact on the mind and a shorter duration of effects.
Can CBD Gummies Help with Pain?
Our products are not designed to prevent or cure any medical condition. Always speak with your doctor before using CBD if you have underlying health issues.
CBD affects everyone differently. The way you experience its effects depends on factors such as your weight, age, gender, and individual biochemistry.
You won't know how CBD works for you until you try it yourself.
CBD Gummies for Sleep: Do They Work?
CBD gummies are a popular option for people who need help winding down before bed. Others use them to get a deeper, more restorative sleep.
CBD is a health supplement and should not substitute a balanced diet and a healthy lifestyle.
If you're experiencing severe or repetitive insomnia, you should visit your doctor to identify and address any underlying causes.
Can You Use CBD Gummies for Anxiety?
We employ a forward-thinking approach to FDA compliance in our marketing and branding efforts — meaning you won't find any medical claims on any of our products. That's because the Gold Bee CBD line isn't intended to treat or cure any medical condition or ailment.
Our CBD gummies are only intended to offer support to a healthy lifestyle.
With that said, we encourage you to look through the many resources available online about the different health applications of CBD and other cannabinoid-rich extracts.