CBD is known for its massive range of health benefits. Even if you're not familiar with the cannabis market, you've probably heard of CBD in the media, from your neighbor, or in one of the episodes of your favorite podcaster.
CBD is virtually everywhere. More and more people are turning to CBD as a natural alternative for boosting the overall quality of life.
CBD is known for its relaxing and calming effects. Data from case reports and preclinical studies demonstrate CBD's potential in promoting healthy sleep, improving focus, easing physical discomfort, and helping with addictive behaviors.
But does CBD oil get you high? After all, it comes from the cannabis plant.
There's a lot of misconception surrounding the effects of CBD. Today we'll help you understand how the cannabinoid interacts with the brain, which CBD products might get you high, and how to tell the difference between psychoactive vs intoxicating.
Does CBD Oil Get You High?
Generally speaking, CBD oil doesn't get you high, but the final effect depends on where the CBD comes from and how much THC is in your product.
If your CBD oil contains 0.3% THC or less, it comes from hemp and thus won't get you high. Such low concentrations of THC are not sufficient enough to induce intoxication.
CBD is a non-intoxicating cannabinoid. It can make you feel more relaxed, in-the-zone, and uplifted, but these effects are nowhere near the marijuana high.
However, there are some exceptions.
Why Some Think You Can Get High on CBD (Misconceptions)
CBD can be sourced both from hemp and marijuana. The latter may contain a considerable amount of THC — upwards of 5% — depending on the final ratio between the two cannabinoids. These products are made from selectively bred marijuana strains that are created for high CBD levels.
Nevertheless, their THC content isn't as low as in hemp, so it can produce a mild high.
The ratios of CBD to THC can be 1:1, 2:1, 5:1, or even 20:1. The higher the amount of CBD, the less trippy the intoxicating effects. That's because CBD and THC are like the yin and yang of cannabis.
Here's what you need to know.
Understanding the Difference Between CBD vs THC
Since CBD is derived from cannabis, people who are going to try CBD oil for the first time are concerned that it will get them high.
Once you understand how CBD and THC affect the brain, you'll no longer be confused.
Below we share the basic information on CBD, THC, and their traits:
As you can see, CBD and THC work synergistically in the body, modulating the activity of one another. Just like CBD is able to mitigate the intoxicating effects of THC, THC may enhance some of the health benefits of CBD, unlocking its full potential.
What Does CBD Actually Feel Like?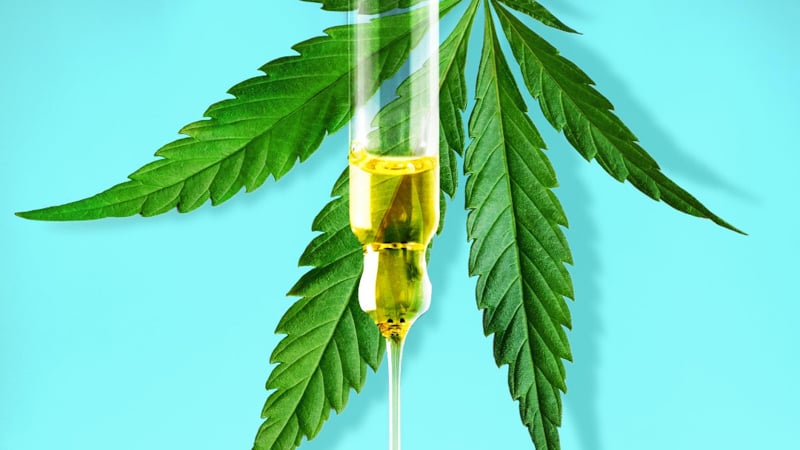 CBD alone won't get you high, but what exactly happens when it enters your body? How does CBD produce its effects?
In the above section, we've mentioned that CBD doesn't directly bind to any cannabinoid receptors in the brain, but it acts on more than 60 receptor-based and receptor-independent pathways.
While THC is a cannabinoid agonist, CBD is the modulator of the ECS.
On top of signaling the ECS to increase the production of endocannabinoids, CBD also slows their breakdown by inhibiting the activity of the fatty acid amino hydrolase (FAAH) enzyme. With more endocannabinoids circulating in the bloodstream, your body can return to homeostasis more efficiently (3).
Most users describe the effects of CBD as a wave of calming sensations and relief running through the body and mind when they take CBD oil or vape it. Depending on the route of administration, CBD oil may take anywhere between 5–90 minutes to kick in.
To sum up, CBD oil can make you feel:
Is CBD Psychoactive?
There's a common misconception that CBD isn't psychoactive, but in fact, it fits in the official definition like a glove.
The fact that something doesn't get you high doesn't mean it's not psychoactive.
Sounds confusing?
Let's add another term to resolve the doubts.
Psychoactive vs Intoxicating
The official definition of psychoactive is "affecting the mind or behavior." Although CBD doesn't affect your behavior, it certainly does influence the mind. For example, bringing a calm sensation to the user, can improve their mood and make them happier. As a result, they will behave differently than before CBD.
So, if we want to be precise as a Swiss watch, we must accept the fact that CBD actually is psychoactive. However, many people don't accept that trait because they strongly associate the word "psychoactive" with THC, and hemp companies are trying to make a clear distinction between the effects of hemp-based CBD products from their marijuana-derived counterparts.
With that in mind, let's shed more light on how CBD oils are made and how manufacturers ensure the THC content doesn't exceed 0.3% by volume.
How CBD Oil is Made to Ensure It Won't Get You High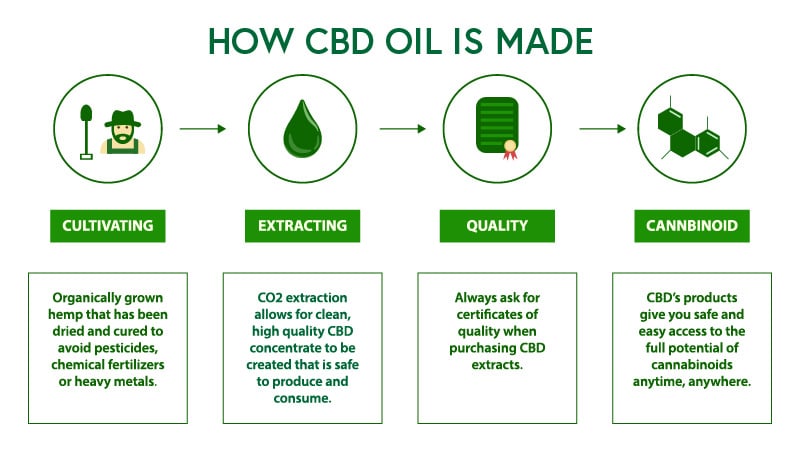 Most CBD oils available for sale are extracted from hemp, which is bred to contain higher levels of CBD and only a trace amount of THC. Hemp farmers take advantage of hemp's naturally high CBD content and grow the plants to yield CBD-rich flowers.
What does the trace amount of THC mean?
While marijuana may contain anywhere between 5–35% of THC, hemp usually comes with 0.3%, which won't get the user high. This is also the federally accepted limit for the THC levels in hemp products. Hemp-derived CBD oil is legal in all 50 U.S. states thanks to that.
However, once the plant has been harvested and brought to the extraction facility, the CBD and other cannabinoids are pulled from hemp using a solvent. Reputable manufacturers use liquid CO2 to extract CBD; the CO2 technology allows for efficient extraction without adding additional heat or solvents on the way.
From there, the viscous hemp extract undergoes a process known as fractional distillation. At this stage, the manufacturer can isolate specific cannabinoids and reintroduce them in desired ratios to the final product. In a similar manner, extractors isolate THC, leaving 0.3% inside the CBD oil.
It's important that the extraction process is conducted properly, as any mistakes may result in a product tainted with an illegal dose of THC.
The best way to make sure your CBD oil doesn't contain more than 0.3% of THC is to look for the Certificate of Analysis (CoA) from a third-party laboratory. Outside laboratories verify the CBD content in the tested sample and look for common contaminants to check if the product is safe for consumption.
Other Potentially Intoxicating Cannabinoids
Full-spectrum CBD oil contains other cannabinoids aside from CBD.
On top of non-intoxicating compounds, such as CBC, CBG, or CBDA, there are two minor cannabinoids that could get you slightly high when consumed in large amounts.
Let's Wrap It Up: Which CBD Oil Will Get You High?
As written at the beginning of the article, CBD can be extracted from hemp and marijuana plants.
Due to the higher levels of THC, ranging from 5% to 35%, marijuana-derived CBD oil can get you high, but the intensity of the buzz depends on the ratio between THC and CBD. If you're using a high-CBD / low-THC product, you can balance the psychoactive effects of THC but still experience relaxation and other benefits of cannabis.
Hemp-derived CBD oil won't make you feel high because it contains only negligible amounts of THC. However, you can still benefit from a wide range of positive effects on your health associated with using cannabis. People take CBD oil to feel focused, relaxed, more in-the-zone, invigorated, and free from aches and discomfort.
There are also many other goals of CBD supplementation, but getting high isn't one of them. For this reason, hemp-derived CBD oil is federally legal and available for sale without prescription. You can purchase it in local health stores, dispensaries, vape shops, and online retail stores.
Final Thoughts on CBD Oil and Getting High
CBD alone won't get you high. It's impossible from the biological point of view; CBD doesn't affect the same receptors as THC, hence the lack of intoxicating effects. However, that doesn't mean CBD isn't psychoactive.
Since CBD can improve your response to stress, enhance focus, and make you feel more relaxed, it does — in a way — affect your mind and behavior. Therefore, it's 100% psychoactive by the definition. When people say CBD oil doesn't get you high, they mean it doesn't have intoxicating properties.
The only intoxicating compound in cannabis whose concentrations are significant enough to cause a high is THC. However, in hemp-derived products, its content is limited to 0.3% — you won't get high from such modest amounts. Other potentially intoxicating cannabinoids, such as THCV and CBN, only modulate the effects of the major cannabinoids and won't make you high on their own.
If you want to ensure your CBD oil doesn't contain more than 0.3% of THC, always look for third-party lab reports. Reputable companies publish them on their websites or send them to users on request. The CBD market is booming and unregulated, so thorough research is necessary if you want to avoid companies that sell fake oils online.
We hope you've enjoyed this article and will find it useful in your future exploration of CBD products!
References:
Webb, Charles W, and Sandra M Webb. "Therapeutic benefits of cannabis: a patient survey." Hawai'i journal of medicine & public health: a journal of Asia Pacific Medicine & Public Health vol. 73,4 (2014): 109-11.
Corroon, Jamie, and Joy A Phillips. "A Cross-Sectional Study of Cannabidiol Users." Cannabis and cannabinoid research vol. 3,1 152-161. 1 Jul. 2018, doi:10.1089/can.2018.0006
Khan, Mohammed I et al. "The Therapeutic Aspects of the Endocannabinoid System (ECS) for Cancer and their Development: From Nature to Laboratory." Current pharmaceutical design vol. 22,12 (2016): 1756-66. doi:10.2174/1381612822666151211094901
Englund, Amir et al. "The effect of five day dosing with THCV on THC-induced cognitive, psychological and physiological effects in healthy male human volunteers: A placebo-controlled, double-blind, crossover pilot trial." Journal of psychopharmacology (Oxford, England) vol. 30,2 (2016): 140-51. doi:10.1177/0269881115615104
Karniol, I G et al. "Effects of delta9-tetrahydrocannabinol and cannabinol in man." Pharmacology vol. 13,6 (1975): 502-12. doi:10.1159/000136944