After browsing CBD products for a while — trying to choose between CBD oil, capsules, gummies, vapes, beverages, topicals, etc. — it's totally understandable if you throw your hands into the air in hopelessness. The abundance of different CBD formats is overwhelming, not to mention all those different formulas, potencies, and whatnot.
Chances are you're used to taking pills, so the choice is obvious for you, especially if you live a busy life and need your CBD on-the-go.
On the other hand, those who have tried vitamin D in drops will probably prefer CBD oil due to its higher efficiency.
But what if this is your first time choosing a health supplement?
How should you choose between CBD oil vs CBD capsules?
After all, these are the most common CBD products, and some of the first to hit the market. Narrowing down your choice between these two forms seems like a wise thing to do considering their vast popularity.
In today's article, we'll break down the differences between CBD oils and capsules. We'll also cover the pros and cons of both products, and in what instances one form may be superior to another.
Let's get started!
How to Choose Between CBD Oil vs CBD Capsules
Choosing between CBD oil vs capsules boils down to mapping out your priorities.
First things first, you need to think about the goals you want to achieve with CBD. If you're looking for a product suited for general purposes and overall balance, both oils and capsules may be able to meet your expectations.
Okay, but what's the point of choosing between CBD oil vs CBD capsules if they offer pretty much the same benefits?
As they say, the devil lies in the details.
CBD oil and capsules offer different bioavailability because they are processed by the body in different ways. We'll cover this subject later in the article, but when you compare CBD oil and CBD capsules, the first product acts faster — although caping is often considered the fastest method to deliver CBD to your system.
Convenience is another important factor when choosing between CBD oil vs capsules. Many people live a life with tight schedules, so the preferred administration method will depend on how it fits into your daily routine.
For some folks, taking CBD capsules alongside their daily supplements is the way to go, while others won't mind spending extra two minutes out of their day to apply CBD oil under the tongue. If you're often on the go, the non-liquid format may be the best as it won't cause leakage.
Discreteness is also a priority for some users. If you need to take several servings throughout the day, you may need to take CBD at your workplace. Taking CBD oil sublingually may turn the heads of co-workers and passers-by, which is very uncomfortable for many people. In such situations, capsules — or even gummies and honey sticks — will be a more subtle option.
Other important factors raised in the 'CBD oil vs capsules' debate are potency, availability, and price. Some products have more concentration options available than others, in which case you may prefer buying CBD oil, which is the most widely available format with an enormous variety of potencies. Price differences can be massive too, so you'll need to take your budget into consideration as well.
CBD Oil vs CBD Capsules: Reasons for Choosing CBD Oil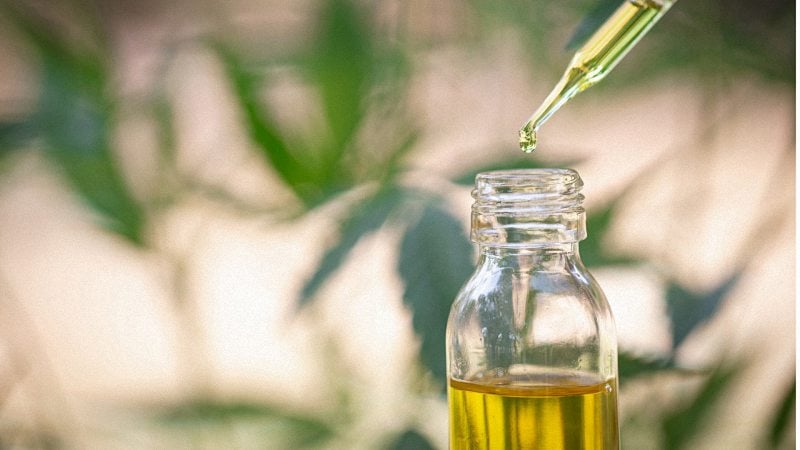 CBD oil, sometimes called CBD drops, consists of a cannabis extract that has been infused into a carrier oil, such as MCT oil or hemp seed oil.
Taking CBD oil is straightforward. The product usually comes in 30-mL bottles with a dropper attached. All you need to do is squeeze up some oil using the dropper, place the desired dose under your tongue, and hold it there for around 60 seconds. It's a good idea to swish the oil around your gums and the area beneath the tongue to increase the surface area of absorption. From there, the cannabinoids and terpenes will travel directly into your bloodstream where they can interact with the endocannabinoid system in a quick and effective fashion. Then you simply swallow the oil.
You can also add CBD oils to food and beverages, but this will negatively impact the bioavailability of the oil. The reason why companies suspend CBD extracts in carrier oils is that cannabinoids are fat-soluble. The amount of CBD oil you swallow in the end doesn't lose as much potency as it would if you consumed the sheer extract.
The bioavailability of sublingual drops is higher than oral forms such as capsules or edibles. However, the figure still doesn't exceed 35%, so you're not maximizing the potential of the active ingredient.
The Pros of CBD Oil
CBD oil is the most common type of product available out there. The variety of potencies and flavors is huge, meaning you'll be able to easily find a CBD oil tailored to your needs. It's generally recommended to start low in terms of the dosage, working your way up gradually to the effective dose.
The dropper attached to CBD oil can help you adjust the serving size accurately to suit your dosage.
CBD oil has a higher bioavailability than capsules. As a result, more CBD enters the bloodstream, so you may need a lower dose to achieve the desired results than with oral products.
Although people are usually unfamiliar with the sublingual use of supplements, this is a pretty straightforward method, so it's easy to get a grasp of it.
The Cons of CBD Oil
CBD oil has a strong earthy taste and a strange texture. Unless flavoring has been added, chances are you will dislike the taste.
Sublingual drops aren't convenient to carry around. There's a chance the oil may leak in your bag, which makes CBD oil risky to travel with.
It's the least subtle way to apply CBD. Having to add an oily extract with a dropper under your tongue when you're among others is far from comfortable.
CBD Oil vs CBD Capsules: Reasons for Choosing Capsules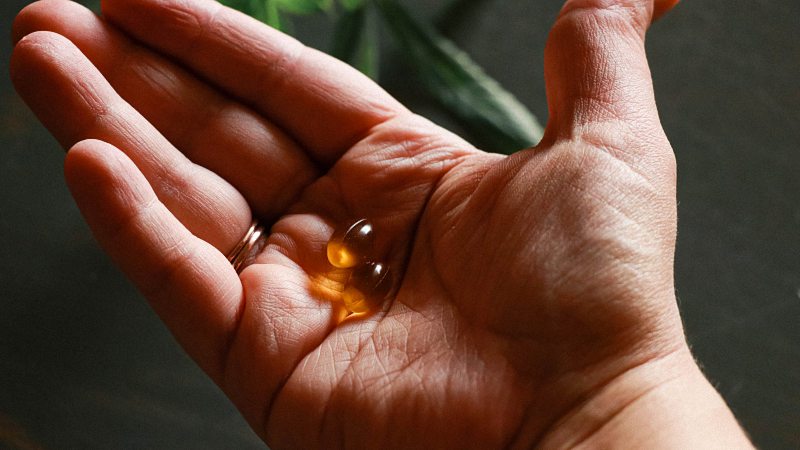 CBD capsules contain the same active ingredient — cannabidiol — but they are more stable than the oil. Once extracted, the oil gets suspended in the carrier oil and then enclosed in a softgel shell. CBD capsules are popular because they look like any other pill people take and you just need to pop one in your mouth and swallow it down with a glass of water.
The Pros of CBD Capsules
Capsules are very convenient to take. If you already take supplements or vitamins, it's easy to add another capsule to your routine.
The dosage is simple. Each capsule contains a premeasured dose of CBD, so there's no guesswork or playing with the dropper involved.
Capsules are a traveler's best friend. There's no risk of leakage in your bag and they are very easy to carry around.
CBD capsules are low-profile, and you won't be noticed for taking one in public or at work. They're much more discreet than CBD oil.
They are a taste-free option for those who dislike the taste of CBD oil.
The Cons of CBD Capsules
The bioavailability of capsules is lower than with oils, and the dose loses part of its potency in the digestive system.
Capsules aren't as widely available as CBD oils, and they offer limited strength options (10–50 mg)
The fixed dosage per capsule may be problematic for those who need less obvious doses of CBD.
Final Verdict: Should You Choose CBD Oil or CBD Capsules?
Choosing between CBD oil vs CBD capsules boils down to your preferences, which will be mostly driven by your lifestyle. Cost isn't such a big factor here, so you'll need to consider other things when it comes to the final decision.
CBD oils might be better if you're searching for a fast-acting product that allows for precise dosing, and if you have nothing against the botanical taste of full-spectrum extracts. Capsules are better suited if you prefer convenience and discreteness on top of a predetermined dose per serving.
If you've already tried out both types of CBD, let us know in the comments which one is your go-to option — or, maybe you take both, depending on the situation?
We can't wait to hear your opinion!