It's impossible to go a day without hearing something new about CBD and its health benefits.
With all those different CBD products available for sale, you may be wondering "what's the best way to take CBD?"
And you're not alone in your dilemma.
This article will help you figure out the best form of CBD for your needs. We'll highlight the pros and cons of each consumption method, discuss their bioavailability, and look at different time schedules for taking CBD.
An Introduction to CBD
CBD is one of over 100 identified cannabinoids in the cannabis plant. It's also the second major cannabinoid next to THC, but unlike its psychoactive cousin, CBD won't cause a high.
CBD is the modulator of the endocannabinoid system (ECS), a complex regulatory network, and the major system inside our bodies.
The role of the ECS is to maintain homeostasis, a neurochemical balance between the above function. Homeostasis is necessary for the body to prevent any physiological and psychological dysfunctions. This system does it through its own neurotransmitters known as endocannabinoids.
Endocannabinoids act on two types of cannabinoid receptors that are present in every organ and system inside the body, with the highest concentrations in the brain and immune system. Endocannabinoid dysfunction occurs when the endocannabinoid system isn't able to produce enough of its native cannabinoids to bring back and maintain homeostasis.
CBD signals the endocannabinoid system to release more of these molecules. It also slows down their breakdown by blocking an enzyme that metabolizes them.
CBD has over 60 molecular targets, so it's quite strange that it can't get you stoned. Not only that, but CBD can also balance out the euphoric properties of THC.
What's the Best Way to Take CBD: Overview of Different Products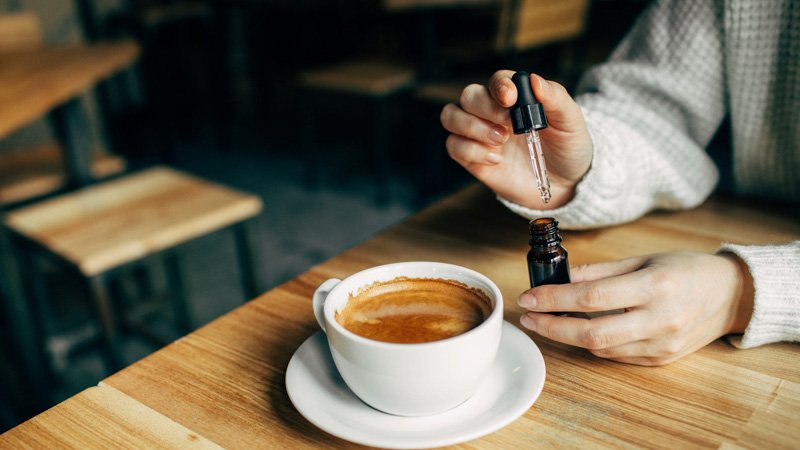 In this section, we cover the most common forms of CBD, discussing their pros and cons.
1. CBD Oil (Sublingual Drops)
CBD oil drops are the most common way to take cannabidiol. This is perhaps the most common product on the market; you can find it online as well as in local cannabis dispensaries, vape stores, fitness centers, pharmacies, and even organic food stores.
CBD oil is the best way to take CBD for beginners but it also has a well-established reputation among experienced users. This product is literally an oil infused with CBD. The CBD extract is usually suspended in a carrier oil and bottled up with a dropper that lets you measure out a precise dose for your needs.
To use CBD oil, you place a few drops under the tongue. Once there, hold it for about 60 seconds, swishing your tongue around the mouth to increase the surface area through which the oil can be absorbed into the bloodstream. When consumed this way, CBD avoids the first-pass effect in the digestive system because CBD is transported through sublingual membranes.
CBD oil offers a relatively fast onset (around 15-30 minutes) and long-lasting effects (up to 6 hours).
Pros & Cons of taking CBD oil:
Pros
Cons

Easy to use
Offers efficient absorption
Fast-acting effects
Lasts longer than inhaled CBD
Relatively high bioavailability (up to 35%)
Allows for precise dosing

Natural CBD oil has a distinctly earthy taste
Not the most convenient way to use CBD on the go.
At Gold Bee, we offer full-spectrum CBD oils in four concentrations: 300 mg, 600 mg, 1200 mg, and 2400 mg. Full-spectrum means that CBD was extracted from the whole hemp plant and contains more valuable compounds, such as trace cannabinoids and terpenes, both of which boost the efficacy of CBD.
2. Swallow CBD Oil in a Capsule
Every health supplement has a capsule form and CBD doesn't fall out of the bracket. CBD capsules can take the form of a soft gel or a pill, but they contain the same CBD extract that you see in CBD oil.
CBD capsules have many benefits. For one, they are easy to swallow, so you can take them on the go and avoid the whole dropper mess. CBD capsules are also easy to dose because each capsule contains a premeasured amount of CBD. They're also more discreet than CBD oil.
However, there are also a few downsides to using capsules. Since they are swallowed, they need to travel through the gut before entering the bloodstream, resulting in a lower bioavailability. Not only does less CBD enter your system, but it also takes more time for the effects to take hold. But once they have kicked in, they may last for up to 8 hours depending on your weight, metabolism, and whether you take CBD capsules on a full or empty stomach.
Pros & Cons of Taking CBD Capsules
Pros
Cons

Easy to swallow
Contain a fixed dose of CBD per piece
Flavorless and odorless
Discreet
Easy to take on the go

Low bioavailability (between 4-20%)
Delayed onset
Gold Bee offers high-potency soft gel capsules that contain a mix of full-spectrum CBD and premium-grade MCT oil for enhanced absorption and the added benefits of essential omega fatty acids. Each capsule contains 40 mg of CBD.
3. Take CBD Gummies
CBD gummies are the best way to get the benefits of cannabidiol in a healthy sweet treat. These are just normal gummies infused with a dose of CBD.
Sounds fun?
You bet! CBD gummies and other edibles are actually dominating the market as the product of choice. They offer similar benefits to capsules, such as convenience and easy dosing. Plus, they taste delicious.
CBD gummies are available as both full-spectrum and isolate. Some companies also offer other types of edibles, such as candy, protein bars, and dried fruit. There's a lot of choices when it comes to edibles, making them an exciting and enjoyable way to take CBD.
However, the CBD from gummies will also need more time to kick in since it must pass through the digestive system. You can get around it a little bit by sucking the gummies in your mouth as you chew them. This will cause some of the CBD to pass into the bloodstream through capillaries in your mouth.
Pros & Cons of Taking CBD Gummies:
Pros
Cons

Convenient
Easy to dose
Tasty
Provide long-lasting effects

Take time to kick in
Less CBD enters your body
At Gold Bee, we offer THC-free broad spectrum gummies for those who want to take CBD in the form of a healthy snack but are afraid of traces of THC showing up on their drug test. You can choose between 10 mg and 25 mg gummies depending on how much CBD you need daily.
4. Inhale CBD through a Vape Pen
If you take CBD for immediate relief, vaporization is the best consumption method. Vaporizing means heating CBD liquid to the point when it releases its active compounds in the form of vapor. Vaporizers operate on temperatures below the combustion point, so CBD vapes are generally considered healthier than smoked flowers.
The effects of vaporized CBD come within minutes after inhalation, but they also disappear faster than in other products — usually after around 2-3 hours.
Using a vaporizer also requires a higher learning curve, let alone the cost of the equipment.
Pros & Cons of Using CBD Vape Pens
Pros
Cons

High bioavailability (up to 56%)
Fast-acting effects
Healthier than smoking
Convenient and easy to use on the go

High learning curve
May require expensive equipment
Rub a CBD Topical on Your Skin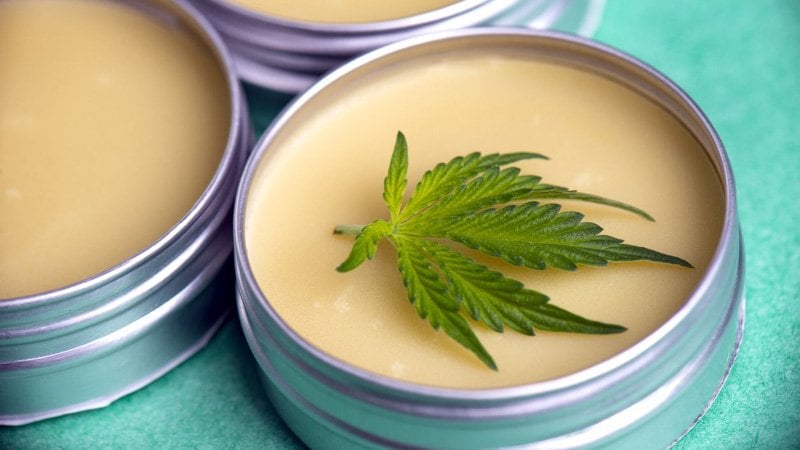 Topicals are the best way to take CBD when you need to deal with localized problems. Rubbing a CBD salve or gel on your skin causes the CBD to absorb into the skin and engage with CB2 cannabinoid receptors in its deeper layers. From there, they can send signals to the brain, relieving different sorts of physical discomfort.
CBD cream can be a great product for those who don't want to ingest CBD but instead would like to use it for a specific area on the body. They're easily available online and straightforward to use — simply take a dollop of your CBD topical and rub it into the skin whenever you need it.
CBD topicals can be infused with other beneficial ingredients on top of CBD. For example, the Gold Bee salve contains a cayenne pepper extract for an extra warming sensation, while our roll-on gel has been infused with menthol to strengthen the effects of CBD.
Pros & Cons of CBD Topicals
Pros
Cons

Easy to use
Great for localized problems
Quickly absorb into the skin

Only good for specific use
What is the Best Time to Take CBD?
At the beginning of your CBD supplementation, you may find yourself thinking about the best time of the day to take CBD oil.
Similar to finding the best dosage, scheduling your routine depends on your goals with CBD and your lifestyle.
If you have a busy job and you want to use CBD, you'll need something that will provide long-lasting effects. Your best bet in this case is capsules and gummies.
On the other hand, if you're looking for a fast-acting method of delivery, keeping CBD oil drops or a vape at hand will ensure the easiest access to the benefits of CBD, no matter what time of the day you take it.
Does CBD oil make you drowsy in the evening? Then you may use it before bed.
The best time to take CBD is the time when YOU need it the most.
CBD Dosage: How Much CBD Should I Take?
There are too many factors involved in determining the optimal CBD dosage to come with a one-size-fits-all solution.
Your unique body chemistry, weight, metabolism, age, lifestyle, and prior experience with CBD — they all can affect your experience with CBD oil.
As a rule of thumb, you should start low and go slow until you reach a dose that works for you. Usually, people take 1–6 mg of CBD per pound at the start, testing the dose for about a week, and readjusting it as needed. Once you have found your effective dose, you can stick to it because it's impossible to build a tolerance to CBD.
Keep in mind that different doses can provide different effects. For example, a lot of people find that low doses are taken in the morning raise their daytime alertness, whereas higher doses in the evening induce sleepiness.
Long story short, CBD dosage can range from anywhere between 5 mg – 450 mg of CBD daily. A little trial and error should help you figure out the best dose for your goals.
Health Benefits of CBD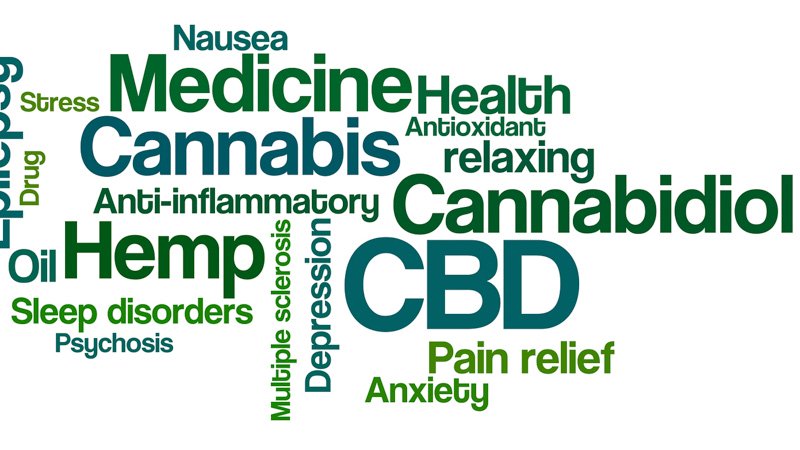 CBD's interaction with the endocannabinoid system would explain its wide range of health benefits. People use CBD oil to boost overall wellness.
With so many potential applications, you might be wondering about the best way to take CBD.
As we said, there's a lot of different CBD products out there, from traditional CBD oil to gummies, lotions, vape juice, and even pet treats.
Long story short, the best way to take CBD is the one that works best for YOU.
The Best Way to Take CBD is the One that Works Best for YOU
CBD is available in a variety of different products. Each of them offers unique benefits, but in the end, everything depends on what you want to use CBD for.
Before you purchase any CBD product, consider different routes of administration. Traditional CBD oil drops are easy to take and combine a relatively fast onset with long-lasting effects. However, they also require you to take measurements with a dropper.
Users seeking gradual, long-lasting effects should look for CBD capsules and gummies. However, this form of CBD has a delayed onset and may not deliver as much CBD to your body as oils and vapes.
Speaking of vapes, this consumption method is perfect for those looking for a convenient way to take their dose of CBD whenever and wherever they need. Here you need to be consistent with the dosage, as the effects of vaporized CBD usually peak within the first hour, dissipating after 2-3 hours from inhalation.
Localized aches, inflamed spots, and stiffness can be eased with a dedicated CBD cream or gel.
What's the best way to take CBD in your opinion? Share your thoughts in the comments below!