Most people are aware that CBD is a natural compound that belongs to the cannabis plant. Manufacturers can extract the non-intoxicating CBD from both species of cannabis — hemp and marijuana. It goes without saying that marijuana-derived products will carry significant quantities of THC, so they may not be legal in all states.
With hemp-derived CBD oil, it's a different story.
CBD hemp products are legal in all 50 states under the 2018 Farm Bill. The new law legalized hemp on the federal level, making it an agricultural commodity, just like any other crop. Hemp can be farmed and sold for any purpose, including health supplements such as CBD oil.
But did you know that even hemp-derived CBD oil comes with traces of THC? It's only 0.3% (or less), but some people may have questions as to why producers include even the smallest amounts of the psychoactive cannabinoid in a product that doesn't cause intoxication.
For obvious reasons, some consumers are afraid of taking CBD oil with THC. In today's guide, we'll show you that the dog's bark is worse than its bite. We'll cover everything you need to know about using CBD with THC, including the mechanisms of their mutual interaction.
CBD Oil with THC: A Brief Overview of the Two Different Cannabinoids
CBD is becoming increasingly popular, but there are still plenty of people who know very little about its properties. Many first-time consumers associate cannabis solely with THC, the compound that gets marijuana users high.
Both CBD and THC are cannabinoids — natural compounds unique to cannabis plants. However, the fact they occur in one plant doesn't mean that they are the same. Despite having the same source and a few similar health benefits, CBD and THC have plenty of differences.
To begin with, THC is intoxicating. It causes the user to experience a range of euphoric and deeply relaxing effects on top of other sensations, such as increased appetite, relief from pain, and alleviation of stress. However, too much THC can backfire with bouts of anxiety and paranoia.
CBD is psychoactive from a technical standpoint — it helps manage stress, so it acts on our mind and behavior in a way — but it has no intoxicating effect. In other words, no dose of CBD will produce any kind of high. You may feel relaxed, both physically and mentally, but you won't experience any mind-altering effects.
Many people use CBD as a daily supplement to enhance general health and well-being. CBD comes in a variety of products; you can choose from different concentrations, formulas, and flavors. CBD can be taken as an oil, edible, capsule, or vape juice — but you can also use it on your skin by applying a CBD-infused cream.
The fact that both cannabinoids are naturally present in hemp makes it difficult to remove the entire THC content. But should you really be concerned about CBD oil with 0.3% THC? After all, it's just a tiny amount.
Let's dive deeper into this subject.
How Does CBD Oil with THC Work?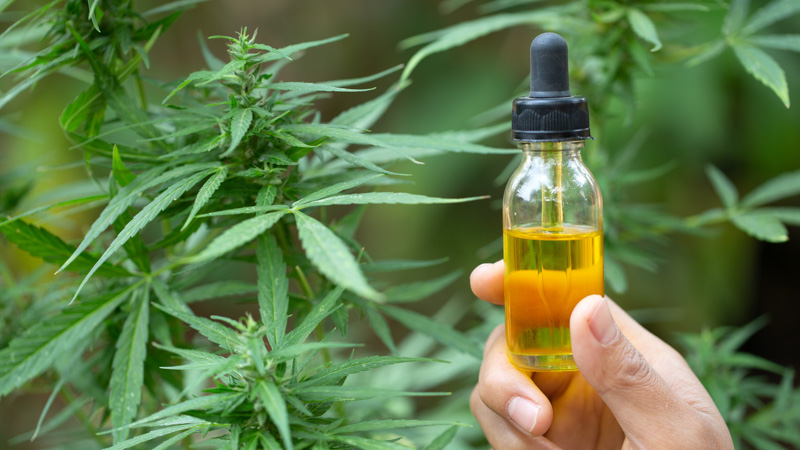 Before we begin, please note that it is possible to purchase CBD oil that doesn't contain any THC. These products are labeled as 'CBD isolate' and called 'Zero THC' or 'THC-free.'
CBD oil with THC is called 'full-spectrum.' In simple terms, it contains CBD extracted from hemp, as well as an array of additional phytocannabinoids — CBD is one of over 115 identified cannabinoids in cannabis. Among these additional cannabinoids, you will find trace amounts of THC.
There are also products labeled as 'broad-spectrum.' A broad-spectrum extract is a "light" version of full-spectrum CBD oil; it contains CBD and other non-intoxicating cannabinoids — but without any THC.
People usually choose among these three cannabinoid spectra based on their needs and goals with CBD. The effects of CBD oil with THC may be slightly different than those without it. This difference stems from a phenomenon known as 'the entourage effect.'
The entourage effect describes a synergy achieved by all active ingredients in cannabis. This synergy enhances the health benefits of the main cannabinoids, increasing the efficacy of the product. According to the proponents of the entourage effect, isolated cannabinoids are less effective than their broad-spectrum or full-spectrum counterparts. Many users prefer full-spectrum CBD oil for this reason.
Not to mention that hemp-derived CBD products — even those with THC — are compliant with the Farm Bill as long as the content of the psychoactive cannabinoid doesn't exceed 0.3%. The modest amounts of THC are nowhere near to evoke a high.
If you like the idea of taking CBD oil with THC, then we have something for you. Our team at Gold Bee specializes in making full-spectrum CBD extracts from organic hemp. You can choose between our best-selling honey-flavored CBD oil, gummies, and capsules, all of which pack a healthy dose of CBD and other phytonutrients per serving. Our products are tested in independent laboratories for their CBD content, purity, and to ensure that none of the Gold Bee's extracts breaches the legally approved THC content.
Are CBD Oils Without THC a Viable Alternative?
As mentioned above, another option is to look for CBD oils and other products that are labeled as 'zero THC.' These products are usually referred to as pure CBD or CBD isolate.
Sometimes, CBD isolate is more expensive due to the number of processes involved for fully removing the THC from the end products. CBD isolates comes in powder or crystal forms, which can be smoked, vaped, or infused into a carrier oil to create CBD oil without THC, capsules, gummies, vapes, and other formats.
One significant advantage of isolated CBD is the peace of mind they offer — and we don't mean the profile of effects. Those with jobs that involve regular drug testing for THC may prefer to use a THC-free product. Although drug tests are designed to look for CBD, they often analyze the THC content or its metabolites.
Although the amount of THC in full-spectrum CBD oil is negligible, they do have the potential of producing a false positive drug test. To avoid potential risks, as mentioned, some folks simply buy THC-free products, such as our broad-spectrum CBD gummies.
Is CBD Oil with THC Better than THC-free Products?
Earlier in the article, we've mentioned a phenomenon called the entourage effect. This concept describes the possibility that CBD oils with THC — and other phytochemicals from hemp — offer higher efficacy compared to CBD-only products. However, remember that research into CBD is still in its early stages. We actually don't know a lot about the exact mechanism of action behind the entourage effect.
According to Dr. Ethan Russo, a cannabis researcher who coined the term 'entourage effect' years ago, claims that full-spectrum CBD oils with THC have a wider range of health benefits and thus more potential applications. Of course, more research is needed on this subject to support the initial findings.
Every person's endocannabinoid system is different, so not everybody will experience the same results with one product. What works for your friend may not necessarily work for you — and vice versa. If you can't decide whether to choose CBD oil with THC or without, you may need to try out a couple of products first. For example, you can take Gold Bee CBD gummies (THC-free) and compare the effects to our CBD oil with THC.
You'll never know what works for you unless you experiment with different formats.
Once again, we'd like to remind people with jobs that involve regular testing that they may want to consider THC-free CBD products for peace of mind. You can also consult your doctor about your plans to include CBD oil in your daily supplementation plan — especially if you use medications that could interact with CBD.
What Does CBD Oil with THC Do?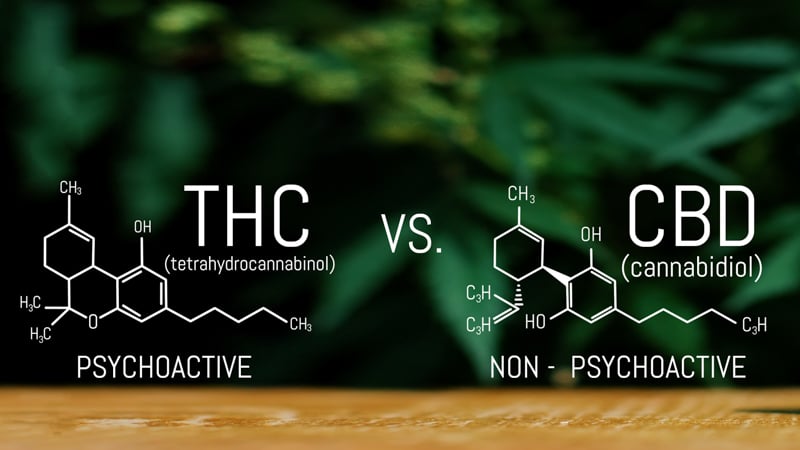 Don't worry if you still feel a little confused after reading this. Perhaps this is your first time with CBD and you have no idea what CBD does in the first place. Well, whether you use CBD oils with THC or CBD isolate, the general benefits are more or less the same.
People use CBD for a wide range of reasons. If you do some basic research online, it's common to read the stories of people using CBD oil with THC for literally hundreds of different reasons. These are, of course, anecdotal claims, meaning they are not always valid, but many of these benefits have been already mentioned in the scientific literature.
What we know so far is that CBD supports the body's endocannabinoid system or ECS. The ECS is responsible for maintaining an internal balance between all critical functions within the body. This balance is known as homeostasis. By taking CBD, you can support a healthy, active lifestyle with a properly functioning ECS.
Where to Buy CBD Oil with THC
There are dozens of brands that offer CBD oils with THC, both locally and online. You shouldn't have problems buying full-spectrum CBD oil near you. Retailers sell lots of different full-spectrum products, but if you're looking for top-of-the-ladder extracts that are crafted by professionals, make sure to take a look at our product line up here at Gold Bee. We also have broad-spectrum or THC-free CBD products, such as our delicious vegan gummies which carry literally ZERO THC.
Unfortunately, the CBD market is unregulated, and some companies are very liberal when it comes to labeling their products, so terminologies can differ from one brand to another. You will likely have to do some digging to find out what cannabinoid spectrum any given product contains.
Regardless of the cannabinoid spectrum, any reputable company should provide lab reports for their products, which confirm the potency of CBD as well as the presence of other phytochemicals from hemp. Third-party laboratories also analyze the product's THC content and look for potential contaminants.
Final Thoughts on CBD Oil with THC
It's no wonder that you have questions about CBD oil with THC. After all, there's too much contradictory information out there on the Internet. When combined with misleading product labels and vague buzzwords used by some companies, consumers can understandably get annoyed during their search for the best CBD oil.
If you are afraid to use CBD oil with THC because you fear getting high, this shouldn't be your concern at all. The trace amounts of THC in full-spectrum CBD are nowhere near to get you high, and in fact, such products may evoke the entourage effect. As a result, you can reap more benefits compared to broad-spectrum products or CBD isolate.
Our take on this subject? We suggest that you give both full-spectrum CBD oils (i.e. those with THC) and THC-free products a try. Every person is unique, and going through some trial and error may be the only way to determine what works best for you and your body. Just remember to do your research on any company that sells CBD oil out there. Ask for lab reports, read user reviews, and be sure that you're buying from a trustworthy source.